Today I started early in the morning by rearranging things in the hangar. I made a pair of large saw horses to support one of my temporary work tables, which will free up the plastic factory-made saw horses for paint booth duty, and more immediately, support the left wing. With the rotisserie parts out of the way, I was able to install the last few nutplates on the root. Having access to the front of the left wing means that I can start working on the pitot tube mount again. The challenge is making a mount that will allow for removal of the pitot tube. If I were doing all of this again from the start, I would have gone with a mast-mounted pitot. The best solution that I could come up with was a sleeve that will join the tube itself to another tube, which is welded to a flat plate that is bolted to the spar web. The connecting sleeve has some slots to allow for passage of the air lines coming from the tube.
142-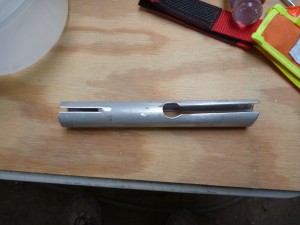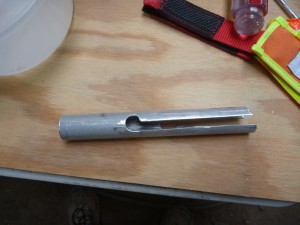 I added the flared aluminum fittings to those soft aluminum lines, and then connected those to the quick disconnect fittings that will accept the DOT-approved brake lines that came in the plumbing kit from Avery.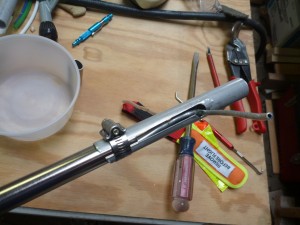 Next I worked for a while on the firewall flange, starting to install nutplates for the screws that will hold on the back of the cowl and the front of the boot cowl. Wade came over to help for a little while, and we were able to move the left wing over to the rack. I put the left aileron on and checked the wing tip for alignment. The tip came a little bit short, because as I have learned now, it was intended to be butted up to the wing skin, not overlapped with it. You might have noticed from my previous entries that I've wasted a lot of time and effort on the wing tip mounting. I'm already committed to an overlap installation, so I'll just extend the aft end of the wingtip a little.


I had plenty of spare aluminum tubing left from fuel lines, so I used that for the new trailing edge.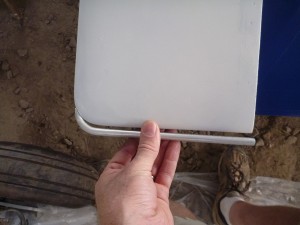 I'm not sure why this tip needed an extension while the other did not. I figure that it must be related to the way the tip sits at the leading edge, or perhaps a difference in the manufacturing molds.