I've spent some time trying to come up with a good way to hold the airworthiness certificate and registration in place. The most light-weight option that I could come up with was to use pages from a small photo album. A trip to the Mighty Dollar yielded a little bunny book that I took two pages out of.


While I was in there, and now that we've had a successful engine run, I closed up the top access panel over the instruments. I started installing the left wing root fairing, but will need some help backing up nuts to finish it. I sealed the firewall grommets with 3M Fire Barrier 2000+, and worked on the cowl for a while. I decided to switch to screws on the front seam that had originally been rivets. I located the holes in the same way that I did the first time. I used spacers to create a gap with the spinner, then started in the middle and worked my way out one hole at a time. In this case, I used a strap duplicator to match the holes to the underlying fiberglass. Since I'm switching from rivets to screws, I also increased the spacing.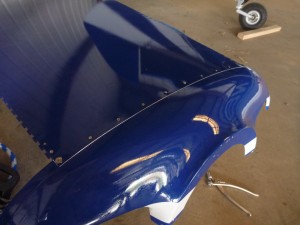 The good news is that I was able to remove all of the old material that had the rivet holes in it. The front edge of the aluminum is not painted, but there are plenty of other flaws that a discerning eye would see in my paint job before something like that becomes apparent. Jim and Danny came by to help get the airplane ready to weigh. As much as it is a moment of truth, there isn't much to the actual procedure. I placed all of the access panels and fairings over their respective holes, drained the little bit of fuel from the tanks and lines, installed the back seat and back seatbelts, stuck the spinner in place, removed everything else from the cabin (which is usually my work space), and connected the engine lift to the tail handle. We powered up the scales and zeroed them out, then rolled the mains up onto their scales.


Then we lifted up the tail to level flight attitude and built up a stack of stuff to support the tailwheel scale at the right height. Then, I looked at the scale to find what I think are pretty good numbers.


I was expecting 1350, and hoping for under 1400, so I'm quite pleased.