I woke up early this morning to try and beat the heat. I made a few more rough cuts to get the baffles clear of the cowling pieces, then positioned the nose bowl as accurately as possible. I aimed for 1/4″ clearance and 1/4″ of additional engine sag. I started the cowl work with the top piece. I used the original edge as the back, since I knew that I was going to have to trim the front to match the fiberglass piece. I drilled the cowl top to match the firewall and boot cowl, and positioned it under the fiberglass nose bowl for marking.


I drilled a hole in a piece of plastic (an old hotel room key) and used it to make a mark on the aluminum that is parallel to the line on the fiberglass.


That worked pretty well. Here is the top piece in position.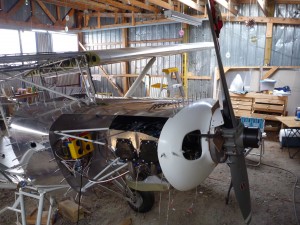 I used another hotel room key to make a similar tool for marking the baffle tops.


I drilled the left side of the top piece to match the reinforcing channel and hinge.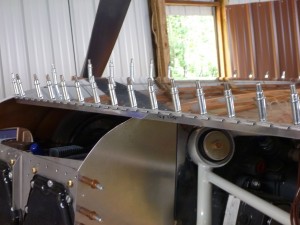 It feels good to get back into sheet metal again!