My last session in the shop included putting almost all of the parts on the airplane, and my last entry here included flying in Dave's Bearhawk. From those two highs, it's time to carry on with progress and see a few lows. First I dug through my tubing scraps and was pleased to find one that will fit nicely inside of the axle. This will help when it is time to bend the axles to align the wheels. Next I marked and trimmed the fiberglass fairings that cover the junction of the lower strut end and the fuselage. Since I'm not planning to have the wings on for a while, this is good to do now.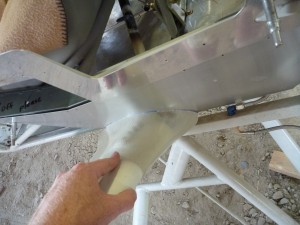 Next I cut the aluminum on the right upper front window frame to match the steel where the lock cylinder will go.


With those things done, I started taking things apart. After about 6 hours of work, this is what it looks like:


Wade and Danny helped with getting the wings and engine off. Tomorrow I should have everything removable off of the fuselage to prepare for blasting and painting.