I'm thankful for being able to spend some serious hours in the shop this month. Today was a good painting day, at least in the afternoon, so I spent the morning wrapping up a few more prep tasks on the fuselage interior. I couldn't come up with an easy way to mask the floor area. Then I had the idea of using the floorboards. After all, they are cut just to the right shape. I didn't want them to get covered with overspray, so I masked them with a very thin plastic sheeting.


The fuselage was ready to spray, but it still wasn't quite the warm part of the day yet, so I started preparing the horizontal stab and elevator for their white coat. Our paint scheme uses Bob's measurements on the rudder and vertical stabilizer, but instead of painting the horizontals white, we put the same type of burst scheme on the top and bottom of those surfaces too. To make them look harmonious, I measured the overall perimeter of the rudder, then the overall perimeter of the elevator. Not surprisingly, they are actually very close to each other, within a few inches. I applied a small correction factor to the measurements, and assembled the tail pieces to lay out the stripes.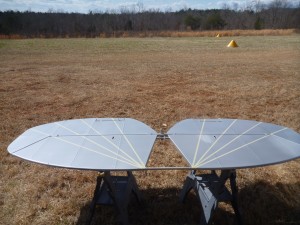 This is a really critical step, since the final paint scheme will fall where these tapes fall. I spent a couple of hours getting both sides of the stab done, then added paper to a couple of the pieces. I was out of time and paint booth space for today's round, so I stopped there and sprayed Juneau White Aerothane on the interior, both trim tabs, and the left elevator. Then I cleaned the gun, which is a ritual that is becoming more and more familiar. I sit on the paint booth floor with my space man mask and white bunny suit and clean each of the pieces right away, since I won't have any way to get the paint off of them after a day or two of sitting.