This afternoon I finished the last bit of heat smoothing in the interior. I had to add a little bit more reinforcing tape to one spot on the left side of the cabin where the large window is. That's a complicated transition and a seam in the fabric makes it more complicated than it should be. The extra tape will help. I spent a few hours applying masking tape to the areas that I'd rather not have to clean off later.


Then I sprayed the first coat of Polyspray on the fuselage and landing gear.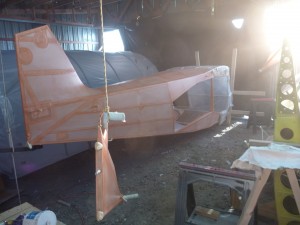 I'm also spraying the exposed portion of fabric on the back seat, and a 3×3 foot swatch of spare fabric that I'll prepare for emergency patches.