This morning I finished the masking work on the cowling.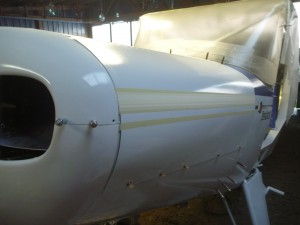 With the cowling in place I found that I needed to trim my new extended front baffles just a little, so I did. I added the rubber seals onto the front of the side and rear baffles, and installed the new 45-degree breather fitting that came in the mail.


I had to trim a little bit off of the end so that it could thread in and clear the engine mount. If the engine had not been in the mount, I would have been able to thread it on without trimming. I finished adding stripes to the window sealing strip and horizontal stab fairings, then mixed up a batch of blue paint. This is the last round of blue paint before the first flight.