I had some help today from Tabitha and her dad. They started making the plates that will go on either side of the new VHF nav antenna. These plates are basically the same as round inspection covers, except that they have a slot in the middle to clear the antenna puck.


While they did that, I worked on making the cowl fit the new exhaust system. I'm going to need some extra clearance where the pipes go into the collector. I feel like if I had been making the system on site, I would have been able to avoid these problems, but since I had to mock it up in PVC pipe, I had to deal with the limitations of the larger pipe.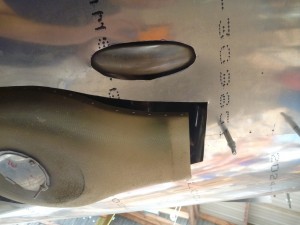 I also cut out quite a bit of material to allow the tail pipe to clear the cowl. Since the tail pipe will be shock mounted, I'll need a little bit of extra clearance.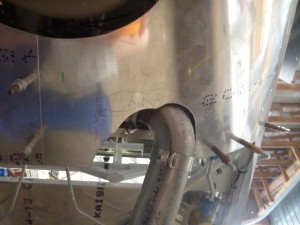 Sometimes the camera makes a handy inspection mirror. Here you can see where the number 3 pipe is also hitting the cowl.


I'll need to take a little material off of the scoop too.