The flap handle is primed and ready for paint, once we decide for sure on an interior color.


I've also finally finished the aluminum flap handle crescent, after making it twice.


While I was at the bandsaw I cut out a piece of plastic in an attempt to make a center insulator for my VHF Nav Antenna. I'm concerned that this one isn't going to be very strong, and it isn't going to have any easy mounting options either.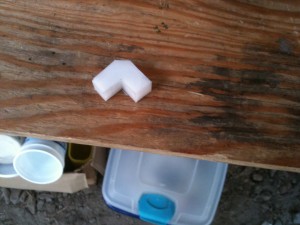 I added some gussets to the seatbelt tabs today, which I made out of .030 steel.


I installed 3 out of 4 today, only because I ran out of time.