The fuselage paint has had plenty of time to crosslink, so today I started masking so that I can spray the interior. I
didn't spray it back when I was spraying the white on the outside of the fuselage, in part because we hadn't decided on the interior color. In retrospect it would have been easier to spray all of the white at once.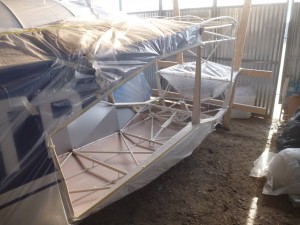 A few other tasks today included putting wheels on the bottom of the fuselage rotisserie so that I can move it by myself. I don't know why I didn't do this sooner! I also prepared the wing tiedown parts so that I can paint them in the next round of primer.