Today Tabitha joined me to work more on the doors and windows. We worked specifically on the lower front door skins, which will be mostly cut out to make room for windows. Some folks call these "patrol doors," which makes for some especially confusing terminology, since there is a 2-place airplane called the Bearhawk Patrol that was designed by the same designer as our airplane.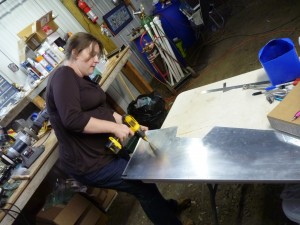 We take turns with these since our hands get tired pretty quickly, Especially in the .032 aluminum. We cut about 1/2 inch from the line on the first cut, then make one or two other cuts to get closer to the final line. This helps minimize bending and distortion on the finished piece, because the scrap piece is able to bend more easily and get itself out of the way.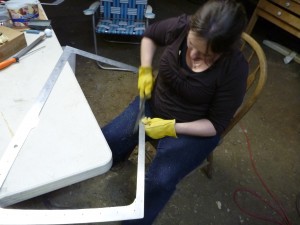 In the case of the window skin, we're just enlarging the center hole slightly from the dimensions that our previous project owner had already cut the skins to. We cut out the right lower door skin and the right top window and started to debur those edges before it was time to go home again.