Today was a short day, but I was able to spend some time on the nutplates that will hold on the "optional" aluminum panel under the door. I learned about a few complications.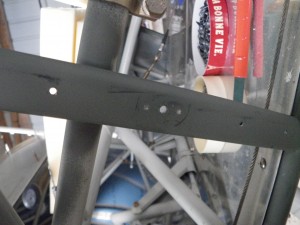 First, the nutplates won't work well on the top unless I bend out the steel piece at the bottom of the door. The surface of the panel and the surface of the nutplate's support have to be parallel. As it is, the steel piece is bent inward to help keep it from chaffing the fabric.
The second problem is that I have way too many holes in that panel! I'm going to spread them out a little on the top, and the door sill plate will help hide the unused holes (and share the used holes).