The only trouble with those fancy firewall pass-throughs that I made yesterday is that it's hard to install them this late in the process. If I had installed them back when the boot cowl was still off, I would have been able to do it by myself. Since that's not the case, it's a two-person job. Fortunately Danny was able to help. Those all-metal lock nuts are pretty stiff to operate, especially from under the instrument panel. I was glad to have coarse thread bolts, since that meant fewer turns! next I attached the longitudinal skylight strips to the roof piece, with two rivets each. This allowed me to finish installing the skylight panels and associated sealant. I started a few days ago on making the rubber baffle seal attach points for the front of the cowl. Today I finished making those.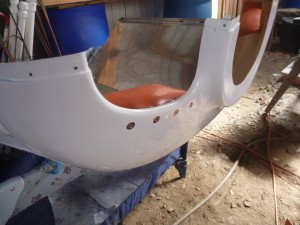 Next I installed the landing light into the empty bracket. I connected the wires and used an adel clamp to provide strain relief.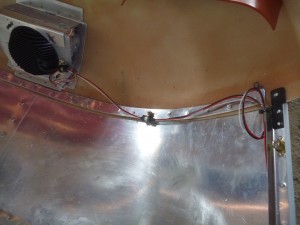 I installed the cabin heat box a few days ago, but had to think for a while about how to connect the control cable effectively. This is what I came up with:


It's just an l-shaped bracket with a small angle bracket to stiffen it up. I also reinstalled a few leftover panels, such as the ones that sit under the front doors, and the horizontal stab root fairings on the right side. I made up a wire to put into the left mag blast tube to give it the proper aim.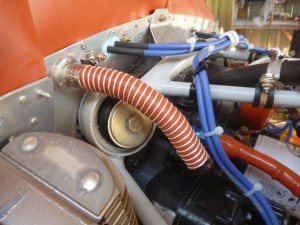 Back when I removed the straight breather fitting to install and angle fitting, I had to remove the safety wire that was securing the tach drive cover. I redid that safety wire this afternoon, and called it quits for the day.