Today I continued my hardware patrol.  I have been through the entire fuselage and the control stick and have replaced and/or noted what I'll need to get to continue.  I can definitely justify the expense of a drilling guide since I have lots of bolts that are good candidates for drilling for cotter keys.
I changed the bolt on the trim wheel to one with a hole in the shank and feel much better about it.  I removed the doors since the hinge bolts were a little bit too short.  Rather than just swapping the bolts I just took the doors all the way off so that I could get in and out easier.  I made a few bolt changes on the elevator and flap controls to account for length and/or drilled bolts.  I also went through the landing gear bolts and installed the ones with the correct grip length, now that I know how to do that.  I didn't have the proper drilled bolts on hand but I'll have the gear off several other times and can replace them next time.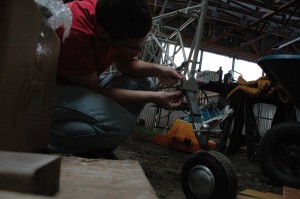 I like to keep the chainsaw handy for deburring aluminum and notching 4130.  Not really!  I also managed to dump out the little tackle box full of nutplates and washers.  I picked them up but haven't sorted them back out yet.  I'll probably try to use household tubs with tight fitting lids since the clear tackle boxes don't stay segregated very well.  Either way it's a waste of productive building time and I should try not to do such things.