This evening Tabitha came out and we worked together on the cowl sheet metal. One of the challenges in trimming the leading edge of the cowl is that the edge needs to match the fiberglass nose bowl, which is hidden underneath the aluminum, and the aluminum isn't transparent. Tabitha came up with the idea of using a piece of tape to mark the aluminum, and it worked pretty well.


She started by cutting out a few pieces of masking tape about 4 inches long. Then she cut some very small pieces and used to hold the larger pieces to the nose bowl, with the sticky side of the big piece facing outward. The forward side of these pieces marked where we wanted the aluminum to end. Once all of these pieces were in place, we reinstalled the metal pieces and rubbed where the tape was. Then we could carefully remove the metal piece, which took the tape with it. It takes a lot of words to describe the process, but it was really pretty straight-forward and I'm glad to have such a creative partner.
With that sorted out we were able to drill the holes in the front of the lower skins. These holes will get rivets, attaching the lower cowl to the lower nose bowl mostly permanently.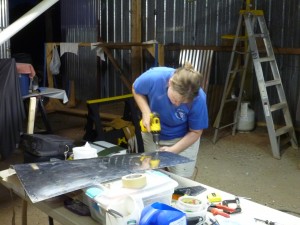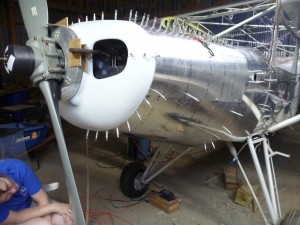 Did I mention about how I was going to have to fix the hole in the side of the boot cowl? I cut the wrong shape out for the air vents. While Tabitha was at the hangar she dimpled the backing plate.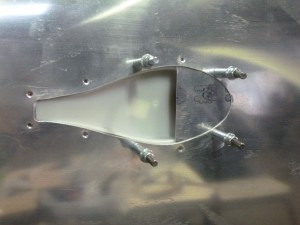 The next step will be to make a D shaped filler that will make the whole thing flush with the skin. I would have much rather just cut it right the first time, but as they say, experience is something that you get right after you need it.