In some areas of the cowl, the exhaust clearance holes have caused some pretty narrow sections. I can see that those might be potential crack areas, so I made some doublers to help them out. The first is for the area between the scoop and the exhaust tailpipe.


The second is between the scoop and the area that will be covered by the bubble.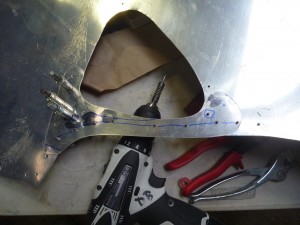 I worked on deburring and dimpling some of the holes in the cowl metal that will later be filled with rivets and screws, and also cut countersinks into the windshield fairing.