This morning I mixed up a batch of epoxy, which I used to laminate a strip of unidirectional carbon fiber to the inside of the wingtip. Hopefully this will keep the scalloping down.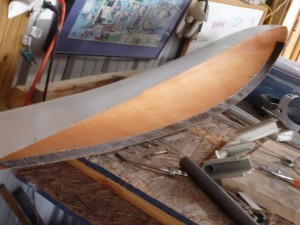 I also used the epoxy to secure the wooden ribs to the vertical stabilizer steel rib.



Here are a few more nutplates that are easier to get to now than later. These include the front strip on the lower sides, plus the back of the skylight hole. I only have a few more things to do before we can start covering.