The weather is starting to get warmer, so I'm starting earlier and finishing later. Today I recoated the tapes on the right flap. Now it is ready for smoothing


I added the rest of the fabric to the left aileron:


And used the iron to shrink the fabric: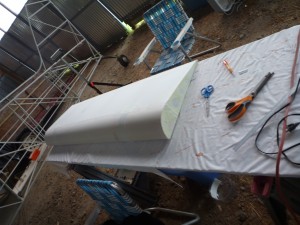 Then applied the first coat of poly-brush by brush:


And added reinforcing tapes to pepare for stitching:


I also finished riveting the right aileron's trailing edge and balance tube in place. It is now ready to cover. I started wiring the audio isolation amplifier, which consolidates the various audio inputs into a single channel for the intercom. I finished the power and ground wires today. I've saved the audio system wiring for last, since it is by far the most confusing.