Today I had a visit from fellow Bearhawk Builder John Rheney. It was great to have him stop by, since most of my visitors are not Bearhawk builders. We were able to talk about several of the special challenges and hard decisions in the building process. My Aircraft Spruce order from Sun-n-Fun arrived, and I got several new goodies. One is a new fuel valve to replace the Andair. The Andair is a great design for most applications, but for ours it doesn't work very well. Since the outlet is on the bottom, the height ends up being a limiting factor. Here's the alternative- the SPRL valve, which is available from Aircraft Spruce.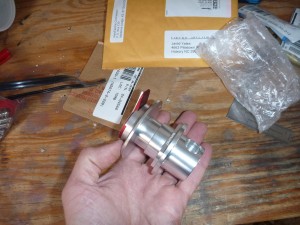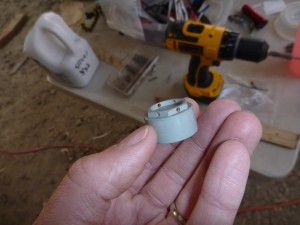 While I was doing all of that Tabitha was working on her window design.
Next I installed the panel annunciator for the low volt circuit. This is especially rewarding work, since now when I turn on the master a light on the panel blinks. If you don't know what I mean, then I'd have to ask if you've ever made an electrical system or circuit. Hearing the battery contactor click is exciting, but blinky lights are much more visual. I found these fancy LED mounts at SNF for cheap, but I wanted to replace their unknown wires with aircraft grade tefzel wires. This has been a strict policy of mine for all wires aft of the firewall.


All that I'm using from this particular mount are the three silver pieces in the middle of the picture. I have a high-intensity LED that will replace this conventional one.


I've made provisions to duplicate all of my annunciators. This provides extra redundancy in case one fails, and also adds to the ambidexturous nature of the panel layout.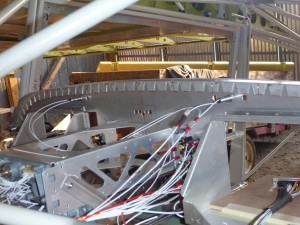 Just to recap, the function of this indicator is quite simple. When the master is on but the alternator is off, the light blinks. This is a great way to detect an alternator failure in flight, and also a great reminder to turn the master off after flight.
I pulled the lead balance tubes back out of the ailerons and checked the weight. I had originally filled them to 6 pounds each, but after further discussion with other builders I decided to remove a little bit of that lead. I drilled out enough to make the new weight 5 pounds and 3 ounces.
I ran a few more wires, including the Dynon ammeter, ground, oil temperature, all grounds, and power feeds.