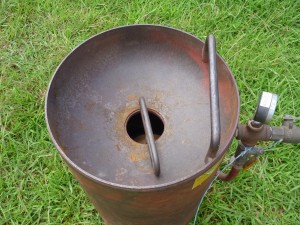 We had a great time at Oshkosh as usual. We saw several old friends and met new ones too. It was hot, as you can see in this picture:


I found a great deal on a set of Cessna style wheel pants. I'll have to make the inboard brackets, but that shouldn't be too hard. I also picked up a different nut to support the outboard side.


It was finally time to sandblast the fuselage, so I made arrangements to rent a 180 CFM compressor and pressure pot.


The pressure pot was very simple, but it had one serious inconvenience. The top is shaped like a funnel, which makes it easy to load, but it's very hard to empty. The previous renter had been using a different type of media, but I didn't know what it was or how coarse it was. I dumped out what I could, and just ran the nozzle out into the air until my quartz started flowing.


As advertised, it was a hot and miserable job. I only blasted the areas where I had removed paint previously. In retrospect, I probably should have removed more, because the transition from old paint to bare metal ended up showing through the new paint. I started setting up at 12:00 and was done by 15:30. When I was done I turned the fuselage over several times to make sure I didn't miss any spots. I moved it back into the hangar and took the compressor back, since I was paying by the hour. I used a total of 150 pounds of medium quartz. I was back in the hangar by 17:40 and sprayed paint until after 10:00pm. Those tubes sure are tricky to paint- there are so many different angles that have to be covered. I used almost two quarts of EP420 to get it all covered, and most of that ended up as overspray.